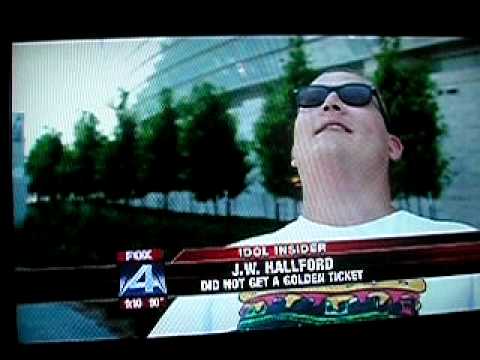 Last June I took a spur of the moment trip down to the new Dallas Cowboys Stadium so that I could try out for this years season of 'American Idol.' Totally not my own idea, but I did it because I wanted to get on TV.  
As you can see by the above clip I was successful on some level.  The episode I could be in where they do Dallas airs tonight, so I am really nervous that there is going to be footage of me singing along to this Kelly Clarkson song "My Life Would Suck With Out You"
Trying out for 'American Idol' is like the 10th layer of hell.  Imagine the most obnoxious and loud people in the world, who think they have great voices, having the license to sing out loud like crazy people at bus stops.  
Sometimes you would go down a flight of stairs, and find a mob of 40 something people singing weird gospel hymns together, all going for that glory note and trying to solo over one another. There were people from all walks of life, but mostly from Wal-Mart. 
The noise was maddening.  You would scour the building for a quiet place to harness your chi, only to find some hideous looking person belting out a song you really don't care for.  Let me put it this way, there were about 20,000 people in the house and about 12,000 were all singing different songs; out loud at and the same time. A sad set of affairs really.  
Then there was the wait. It took me about an hour of waiting in the real line until I decided to cut further down. I ran into this girl named Shannon who I went to highschool with and she gave me cuts. Word up on that. I got as close as I thought I could without getting caught, and they happened to be doing the fake crowd shots in the section I snuck into, so I do expect to see myself on there in the background. Even with this cut in line it took about 8 hours.
I did not advance the Judges didn't like my song. But there is a good chance you could see me on the program this evening somewhere.
Dante Belefonte "Live @ Louie's" by DubNasty
In case you were wondering the rumors are true, DubNasty is in fact the first person EVER to sing "We are the Champions" at the new Dallas Cowboys Stadium.  On the 50-Yard-Line.  Unfortunately it will not be televised… But in case you wanted to hear me sing here is me doing some karaoke. Enjoy!